Hike up, point it, party
Say what you will about telemark skiing:
Fix the heel, fix the problem.
Nobody cares that you tele.
Lock your heel, ski for real.
Et cetera, et cetera, et cetera.
Nevertheless, one day every year, the telemark skier in all of us comes out of the closet to partake in the ski racing spectacle of the Al Johnson Memorial Uphill/Downhill Telemark Ski Race.
This year, you too can partake, hell anyone can partake, in the 42nd Annual Al Johnson race on Sunday, March 20. It is one of the best events of the year and the best one of the winter. It is what it is. Embrace it.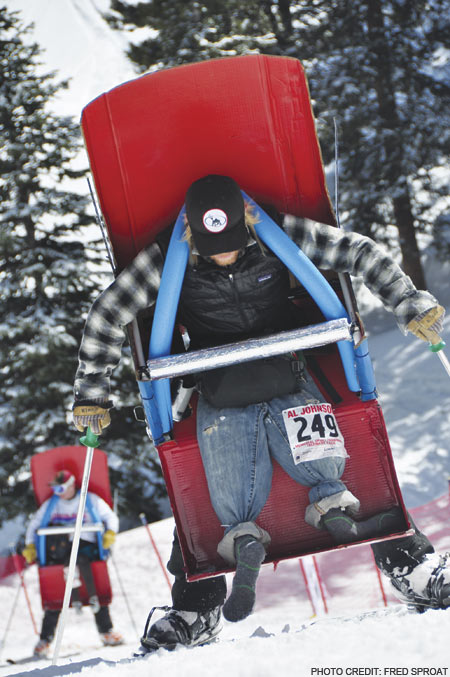 There's telemark gear all over this county, so that's no excuse. In fact, I have been collecting telemark gear and am willing to lend it to anyone jumping into the fray.
It's not a long uphill. So that's not an excuse.
The conditions on the North Face are usually pretty good, so there goes that excuse.
And, costumes are the norm so hide yourself in a trash can and do it. Dress like Al's Johnson and do it. Grab a bunch of friends and come up with some whacky theme and do it.
It doesn't matter, just do it. The race is only matched by the race after party where copious amounts of prizes, and free Avery Brewing Company beer, are handed out to everyone, whether you came in first place or 151st place. Chances are, you'll walk, or stumble, away with a prize.
Want to save a few bucks and guarantee yourself a classic AJ hat? Then head over to the Alpineer for early registration. You have until Friday, March 18 to pre-register and you can save $5 on the individual race, $6 on the tag team.
Can't quite motivate for that? Then come by the Brick Oven on Sunday, March 20 between 8-9:30 a.m. and you can still get in on the mayhem. Either way, make sure you get in early as AJ hats go to the first 200 to register.
The tag team race starts at high noon, individual at 1 p.m. Both start at the base of the North face Lift. After party and awards at Butte 66 from 3:30-6 p.m.
Proceeds from the event benefit the Crested Butte Avalanche Center, your locally run, non-profit avalanche and weather forecasting center.