Fat Bikes, Beer, and 20′ of snow in Crested Butte
After receiving over 12 feet of snow in January alone, Crested Butte played host to the second annual Borealis Fat Bike World Championships. After weeks of snow, the clouds broke just days before the event and allowed Dave Ochs and Crested Butte Mountain Bike Association (CBMBA) to pound in some sweet groomed single track on an 80″ base of snow.  Bikes to be entered into the event required a minimum of 3.5" tires running a maximum of 10 psi.  Wide tires at low pressures allow fat bikes to float on the snow/sand instead of trench into it like a more traditional mountain bike would.
History of Fat Bikes
The emergence of Fat Bikes came from two sources at the same time in the late 80's.  First, there was Steve Baker from Alaska, who was welding together two or three traditional rims and then adapting frames and forks that would allow for the extra width.   At the same time, Ray Molina of New Mexico commissioned Remolino to produce a 3.1" rim, 3.5" tires, and compatible frames.  Though the two were designing for completely different climates, the goal was the same, float on the soft surface be it sand or snow.  After a meeting at the 1999 Interbike, Mark Gronewald of Wildfire Designs Bicycles in Alaska brought the Molina rims and tires back home.  In 2001, Gronewald trademarked the term "Fat Bike" and brought it to the mainstream.  In 2005, Surly was the first major manufacturer to get into the Fat Bike market with the Pugsley frame.
Crested Butte Mountain Biking Heritage
Crested Butte, the tiny town of about 1800 permanent residents sits at the foot of the Elk Mountains of Colorado.  Though usually associated with skiing in the winter, bike culture runs deep.  In the summer, Crested Butte and the Gunnison Valley boast over 750 miles of singletrack biking.  Crested Butte Mountain Bike Association (CBMBA), the oldest mountain bike club on the planet, upkeeps trail year-round here.  The oldest mountain biking event in the world, the Pearl Pass Tour, will celebrate its 41st annual ride from Crested Butte to Aspen in September of 2017.  In the winter, locals wanted to keep riding, and Fat Bikes have found their natural home here.  
Borealis Fat Bike World Championships
Borealis Fat Bike World Championships kicked off Thursday, 1/26, with a race in the North Village trails, a 2.5-mile loop through rolling hills at the Snodgrass trailhead.  A Le Mans start set the precedent for this fun-loving day of racing.  Team or individual racers chose classes with 4 or 8 laps.  Fred and Wilma Flinstone even showed up on a tandem fat bike.
Friday's Demo Day event was open to the public for free.  For those trying Fat Biking on snow for the first time, or those looking for their next purchase, this day was all about bikes.  Participants could take a loop on one of the three groomed trails directly surrounding the venue.  Between bikes, a quick beer from Upslope Brewing or a burger cooked up on "Large Marge", CBMBA's Mad Max style grill, refueled Fat Bikers for their next ride.
Saturday, 1 of about 300 riders was to be crowned the Fat Bike World Champion at the East Side Town Ranch venue.  This 6-mile loop was opened up by Crested Butte Nordic Center for the event.  Being packed out by the Nordic Center's groomer allowed for a wider and harder packed track.  The Elite racer category was a stacked field.  Alex Grant, one of America's top endurance mountain bike racers of Cannondale Factory Racing and 2016 Fat Bike National Champ, passed on an opportunity for a back to back National title in pursuit of a Fat Bike World Championship title.  Robbie Squire of Felt Bicycles, defending 2016 Fat Bike World Champion, had his hands full with this biker out of UT.  Through 4 laps of racing, the favorites were neck and neck with Squire drafting on Grant.  On the final lap, Squire used his skillset as a road rider on Hincapie Racing Team to pass and pull away from Grant and ultimately reclaim his title as Fat Bike World Champion.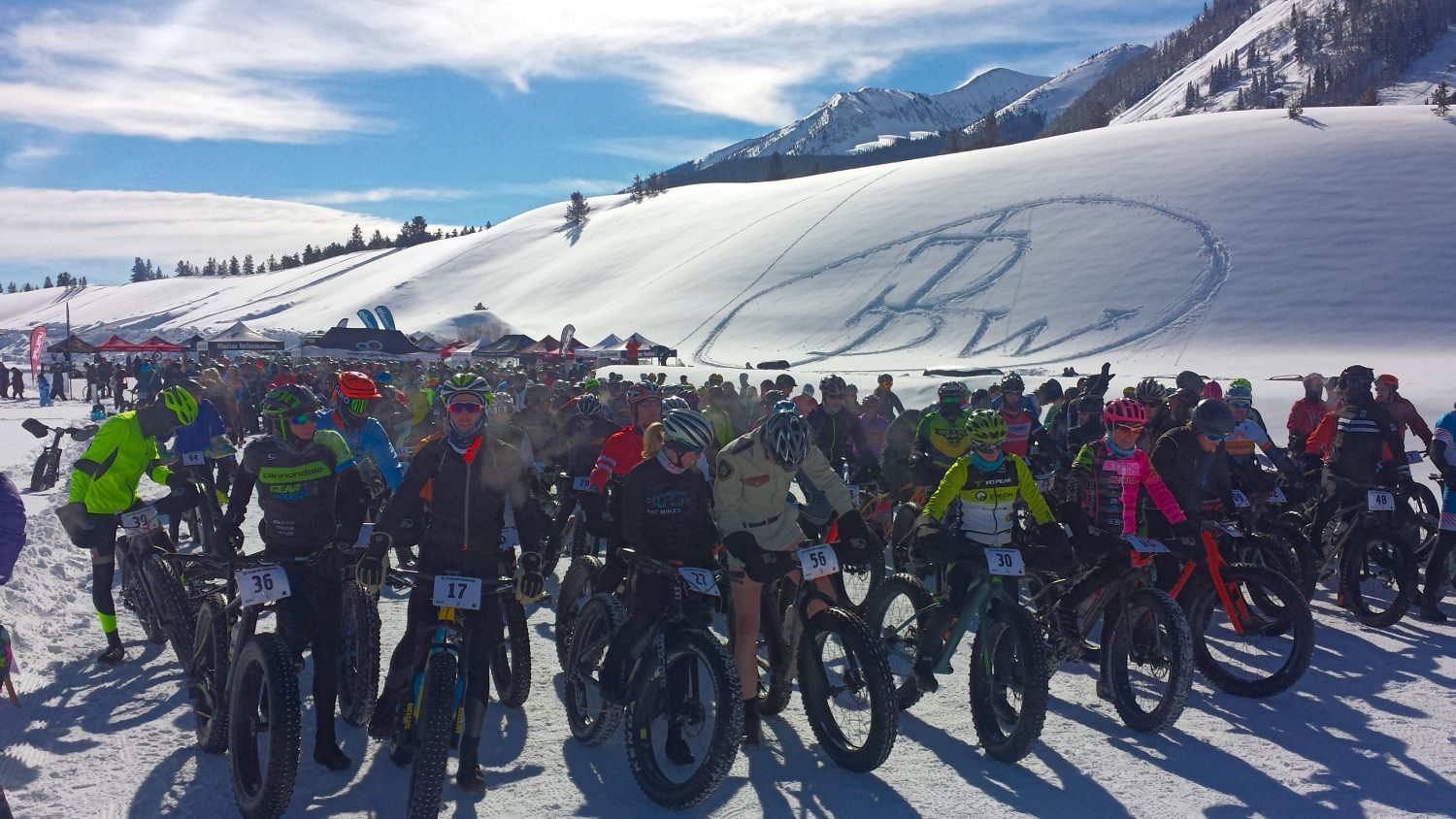 On the final day of the event, Crested Butte Mountain opened up its Gold Link lift to bikers and shut off runs to skiers.  For the first time ever, participants could choose from a dicey single track or a wide open high speed groomed run for their lift accessed downhill experience.  The smells of beer and brakes were in the air.
Check out results and details here.