Crested Butte Winter Activities
There are lots of fun things to do in Crested Butte in wintertime. Downhill skiing at Crested Butte Mountain Resort is what makes this area famous, but the Gunnison Valley's unique towns and two million acres of public land also provide many other winter activities. As you're planning your 2020 or 2021 Colorado ski vacation, consider these options for activities that will truly make your trip unforgettable. Especially during the pandemic, there's no better place than Crested Butte to enjoy the fresh air and escape the crowds by participating in socially distant outdoor activities.  Lets jump into the top Crested Butte winter activities!
Downhill Skiing in Crested Butte
Crested Butte is the quintessential Colorado ski town. It's home to Crested Butte Mountain Resort (CBMR), which features some of the best extreme ski terrain on the planet. Don't worry there's plenty of intermediate and beginner runs, too. It's a unique ski mountain with enough nooks and crannies to keep you entertained for weeks. There's a good balance of groomed and ungroomed runs, as well as several terrain parks. If you're an expert, dip into the glades for fun and challenging tree skiing, or venture onto the t-bars (surface lifts) to access rocks, cliffs and other extreme features. Ski at Crested Butte with your Epic Pass, or simply buy lift tickets a la carte. CBMR offers lessons and equipment rentals, too. More information on ski area health guidelines and winter 2020-21 safety precautions are available on CBMR's website.
Nordic Skiing in Crested Butte and Gunnison
Cross-country skiing, also known as nordic skiing, is a great winter activity and a fun way to enjoy the great outdoors and get an aerobic workout in the winter. Nordic skiing is easy to learn and fun for the whole family. Crested Butte Nordic grooms more than 50 kilometers of trail every winter for both classic and skate skiing. In addition, they offer lessons and events. Hartman Rocks in Gunnison also features groomed trails. There are also ungroomed wilderness trails and back roads to ski on. Our nordic skiing page has more details.
Snowmobiling in Crested Butte
A guided snowmobile tour will transport you far beyond the towns and the crowds. You'll experience the thrill of driving a fast-moving machine through powder before taking a break to enjoy scenic views of the Rocky Mountains. For more information on both guided snowmobile tours and private snowmobile trips, see our snowmobiling page.
Snowshoeing in Crested Butte and Gunnison
For peace and quiet, there's no better winter activity than snowshoeing. If you can walk, you can snowshoe. This is a sport that's fun at any age. Snowshoeing is a true wilderness experience that's accessible right from the town of Crested Butte. Snowshoe rentals are available at many ski shops in Crested Butte and Gunnison. Snowshoe on the groomed CB Nordic trails or find a trail that's more remote. Trail directions and more details are available on our snowshoeing page.
Restaurants in Crested Butte
If you're visiting the Gunnison Valley, chances are you're an active person. You'll need good food to fuel all your outdoor activities and replace all those calories you burned. Elk Avenue in Crested Butte has dozens of great restaurants, from laid-back Asian bistros, to quirky pizza joints, to sushi bars. Gunnison has everything from a craft brewery to a steakhouse. Mt. Crested Butte offers several choices of eateries, too. Browse our local restaurants to find whatever you're craving.
Ice Skating and Dog Sledding in Crested Butte and Gunnison
The Gunnison Valley is a winter wonderland with some truly unique winter activities that you probably don't have back home. During certain times of the winter, Blue Mesa Reservoir near Gunnison freezes into a perfect ice skating surface. Rent skates and try it out for yourself, or skate at the Gunnison or Crested Butte hockey rinks if that's more your style. Several local outfitters offer dog sledding, too. Learn more about ice skating, sleighing and dog sledding on this page. Read on for the quirkiest Crested Butte winter activity of them all: fat biking.
Fat Biking in Crested Butte and Gunnison
If you love mountain biking, you'll like fat biking, too. Fat-tire biking has its roots in Crested Butte. Mountain biking is so popular here that we figured out how to do it all year round. Fat bikes are just that — bikes with a special fork and extra-wide tires that float over the snow. Rent a fat bike at an outfitter in Crested Butte or Gunnison and check out our trails. Hartman Rocks, Crested Butte Mountain Resort and CB Nordic all feature groomed fat bike trails. Be sure to follow trail etiquette. For more about fat biking in the Gunnison Valley, check out our fat biking page.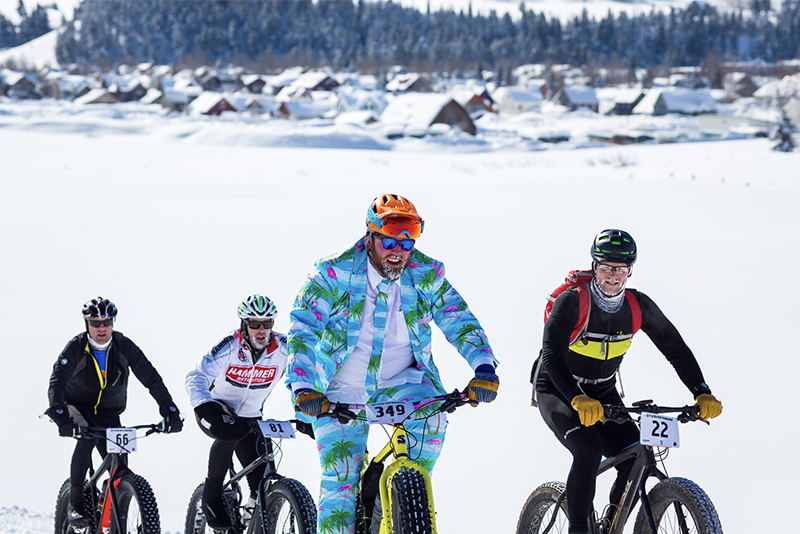 Art Galleries in Crested Butte and Gunnison
It's easy to see why so many artists choose to call Crested Butte home. For decades, photographers, painters and sculptors have been inspired by the beautiful landscapes, famous wildlife and dreamy culture here. View their works at the many art galleries on Elk Avenue and in Gunnison. In addition, both Gunnison and Crested Butte have arts centers that host concerts and other events throughout the winter. Check out our arts and culture page for more information.
Bars and Nightlife in Crested Butte and Gunnison
Indoor winter activities in Crested Butte: There are nearly as many bars and pubs in the Gunnison Valley as there are restaurants. There are dozens of places to kick back, relax and enjoy a drink with your friends and family. Whether you're looking for an upscale wine bar, a local watering hole or a rum distillery, Crested Butte has something for you. Gunnison has several laid-back establishments, many of which offer a wide variety of beers on tap. Mt. Crested Butte has several fun bars that cater to the apres-ski crowd.
Ice Fishing in Gunnison
In the summer and fall, the rivers, lakes and reservoirs in the Gunnison Valley are famous destinations for fly fishing and the kokanee salmon run. During the winter, the two most popular ice fishing locations are Blue Mesa Reservoir, which is just west of Gunnison on Highway 50, and Taylor Park Reservoir, which is about 20 miles east of Almont on County Road 742 (the Cottonwood Pass road). Be sure to talk to a local fishing outfitter to learn about current conditions before you venture onto the lake. Visit our fishing page to learn more.
Lodging in Mt. Crested Butte, Crested Butte, Almont and Gunnison
There are hundreds of lodging options in the Gunnison Valley. Whether you're looking for a peaceful mountain hideaway or an establishment that's just blocks from the downtown scene, the Gunnison Valley has a room for you. If you want to be as close to the ski hill as possible, stay slopeside in a condo or hotel in Mt. Crested Butte. For an eclectic vibe, choose one of Crested Butte's historic bed-and-breakfasts. Almont offers quiet private cabins and lodge rooms. Gunnison has both large and small hotels and nontraditional lodging options as well. Browse our lodging partners to find the perfect place to stay in Crested Butte, Gunnison or anywhere in between.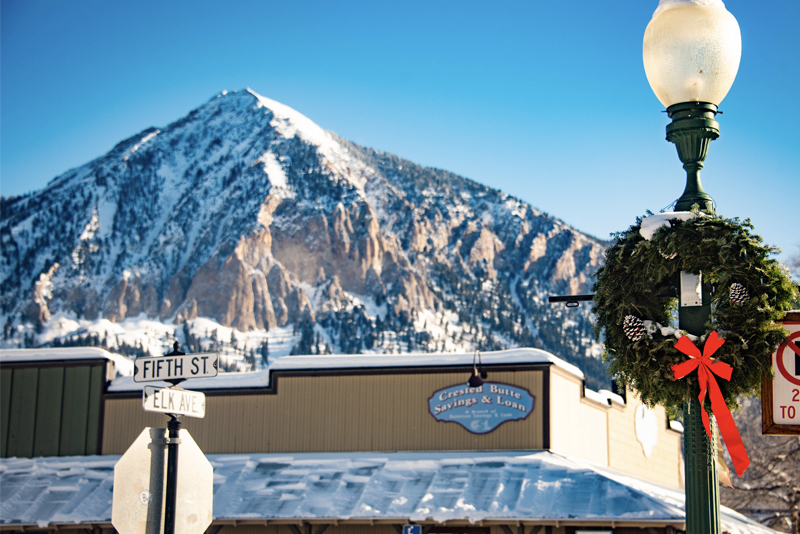 Getting Here by Plane
Crested Butte is literally at the end of the road, but you'll be pleasantly surprised by how easy it is to fly here. The easiest way to get here is to fly into the Gunnison-Crested Butte Regional Airport (GUC) located in Gunnison. American Airlines offers a direct flight from Dallas/Fort Worth Airport (DFW) to GUC. United offers a direct flight from Houston Airport (IAH) to GUC. Another option is to fly into Denver International Airport (DEN) and then take United's direct flight from DEN to GUC. Learn more on our Getting Here page.
Getting Here by Car
Skip the I-70 gridlock and come to the Gunnison Valley instead! Crested Butte is about a four-hour drive from Denver, and three and a half hours from Colorado Springs. No matter which direction you come from, you'll be entertained along the drive by gorgeous mountain views (not to mention light traffic). Learn more on our Getting Here page.
Gunnison and Crested Butte COVID-19 Health Regulations
While the Gunnison Valley might be an escape from certain realities, COVID-19 is not one of them. The pandemic has impacted our community greatly and remains prevalent throughout Gunnison County. We ask that you work with us to stop the spread of the virus. Here's what to expect and what's expected of you during your time in the Gunnison Valley:
Mask mandate
Social distancing
Hand washing and heightened hygiene
Click here for more details.
For more information on the coronavirus in Gunnison County, visit covid19.gunnisoncounty.org.