Crested Butte Wildflower Guide
Crested Butte is often called the "Wildflower Capital of Colorado." A rainbow of colors burst forth every summer in the form of wildflowers. You'll find a wide diversity of species from the tops of peaks in Crested Butte to the high desert of Gunnison from May to August.
This Colorado wildflower guide is only a small sampling of the wildflowers you could find in the Gunnison Valley. Learn about high-season blooms in Crested Butte in this guide. Check out Crested Butte Wildflower Festival's guides and bring a field guide with you on your adventures to learn even more.
Colorado Wildflower Etiquette
Please be mindful of the ecosystem, safety and the enjoyment of others when you're using this Colorado wildflower guide to search for wildflowers. Follow these guidelines:
Don't pick the wildflowers. The growing season is short. If the flowers get picked they will not be able to spread their seeds for the following summer. It's also disappointing if you're looking for wildflowers and there are none to enjoy because someone has been picking them.
Be a responsible trail user. Along with not picking wildflowers, you should also be conscious of your trash, bathroom practices, animals and staying on the trails. Read more about summer trail etiquette.
Plan ahead and prepare. Afternoon thunderstorms are common in the mountains. Start and end your hikes early, especially ones above treeline. Bring plenty of water, snacks and layers. Drive carefully on narrow gravel roads. Leave a travel plan with a friend or family member and carry a map.
Mules Ears Sunflowers
Mules Ears Sunflowers are one of the largest and most common flowers in the Gunnison Valley. They're named for their leaves, which are about the size and shape of a mule's ear. They grow together and cover the valley floor in yellow from mid-June to early August. Some of the best places to see these flowers are Kebler Pass, Mt. Crested Butte and the Walrod Cutoff Trail in Cement Creek.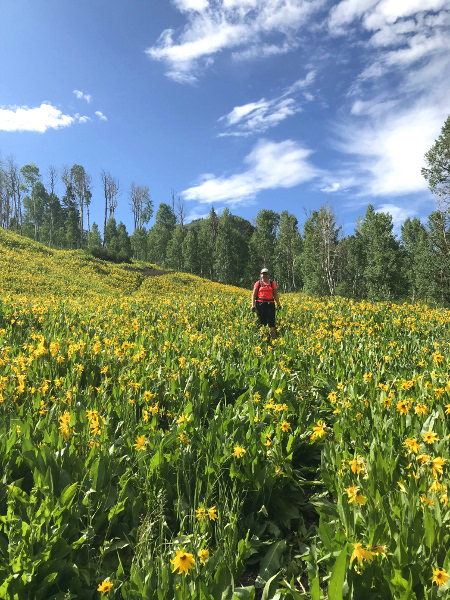 Alpine Sunflowers
These flowers can be found above treeline on rocky ridges. They grow especially well on limestone. The best places in the valley to find this kind of geology are Fossil Ridge and Cement Mountain. Other common spots to find them are Scarp Ridge, Red Lady and West Maroon Pass. They can grow in small groups or cover whole hillsides.
Calypso Orchid
Calypso Orchids are rare and found in dark, dry evergreen forests. They are also called Fairy Slippers. They are usually solitary or grow in small groups, but occasional good luck will yield a whole crop. They grow on skinny red stems. The petals are bright pink and point up. There is a pouch that is usually white and yellow that grows down under the petals. Trails like 409.5 in Brush Creek, Deadman's and Matchless are good bets for spotting these.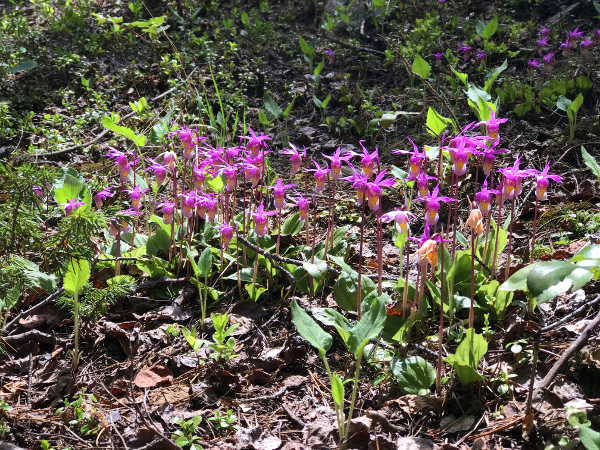 Elephant Heads
Elephant Head flowers love water and grow near river bottoms and marshes. These flowers look exactly like miniature elephant heads, which is where they get their name. Fishers and boaters should look out for them on the river. Look for them in the Slate River Valley, Cement Creek, Brush Creek and pretty much anywhere with water below 10,000′. They tend to bloom earlier in the season and are usually gone by August.
Fireweed
Fireweed is one of the last big blooms of the year. It usually blooms from late July into August. The tall pink flowers can usually be found in meadows and sunny patches in the forest. They can grow up to 6 feet tall with flowers up to one inch wide. Look for them in Cement Creek, on Trail 401 and in Rustler's Gulch.
Glacier Lilies
Glacier Lilies are also called Avalanche Lilies or Snow Lilies. These flowers are one of the first signs of summer. They start blooming when run-off begins and are usually done in June. They like moist areas, such as near patches of still melting snow. Oh Be Joyful, Kebler Pass and other alpine and subalpine areas are great places to find them.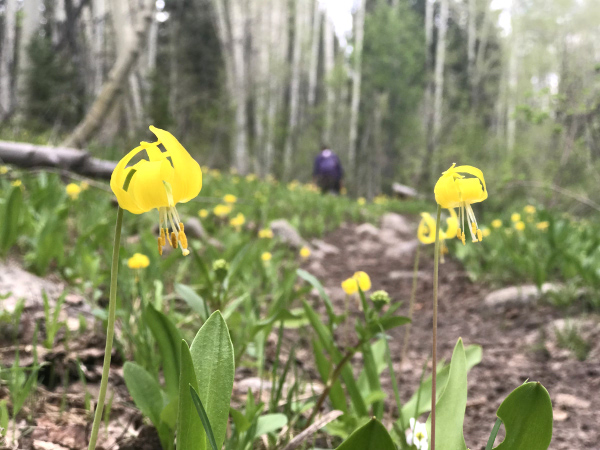 Green Gentian
Also commonly referred to as Monument Plants, this plant is the largest in the valley. It can reach over 6′ tall. Research from the Rocky Mountain Biological Laboratory shows that Green Gentian plants have a lifespan of 20-80 years. The plants only bloom once in this time period. The flowers are white with green shading and dark spots on them. They have four petals and are flat, resembling a star. If you encounter a green gentian take a close look at it to see if it's blooming. The flowers grow close to the stalk and are a similar color to the plant. Heavy snow years tend to produce more flowers.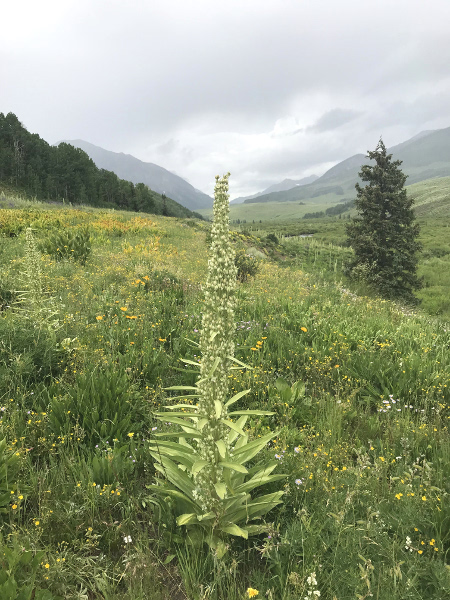 Lupine
Several kinds of Lupine exist in the Gunnison Valley. This is one of the most flowers in this Colorado wildflower guide. Purple blooms are one of the most common in the early summer. The flowers are small and pea shaped. They grow along the stem. Lupine like open meadows, dry or wet. Lupine Trail, one of the Crested Butte town trails, and Cement Creek are good places to spot them.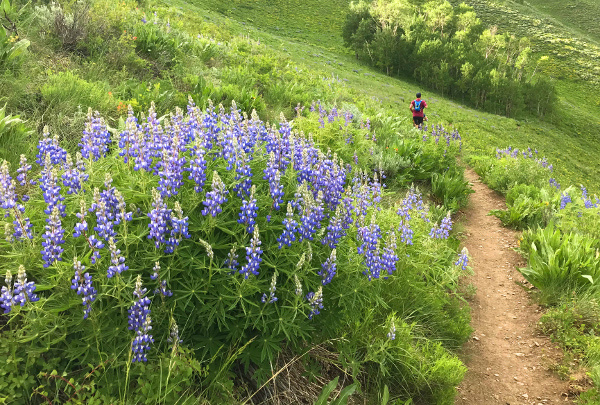 Paintbrushes
Paintbrushes are very common in the Gunnison Valley. They bloom in many different colors from Hartman Rocks all the way to 12,000'+. According to our Colorado wildflower guide, they grow in clumps and are usually red. Hartman Rocks Recreation Area is a good place to see them.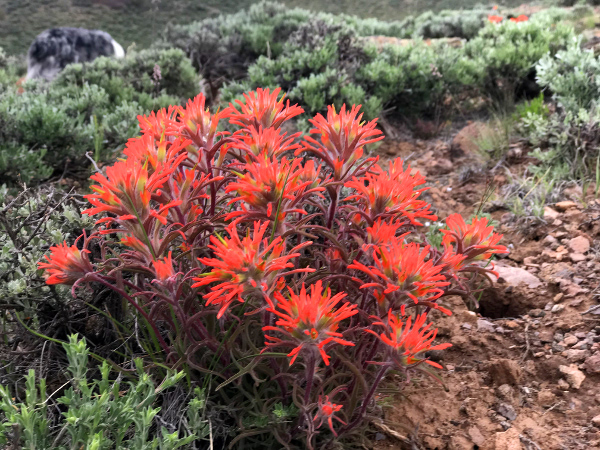 Sego Lily
The Sego Lily is also called the Mariposa Lily. Sego Lilies are a ubiquitous sight in most sagebrush terrain during good water years. Its white petals and purple centers make it a distinct bowl-shaped flower. These flowers are very resilient and can often still be seen in areas affected by wildfires. Gunnison, Jack's Cabin and the Taylor River are good places to spot them.
Shooting Stars
Shooting Stars is another flower that grows near water. Look for them around streams and ponds in the Valley. The flower has an inverted shape. The petals point upward and the flower comes to a point at the bottom. The pointed end is black and yellow and looks like a brush dipped in paint.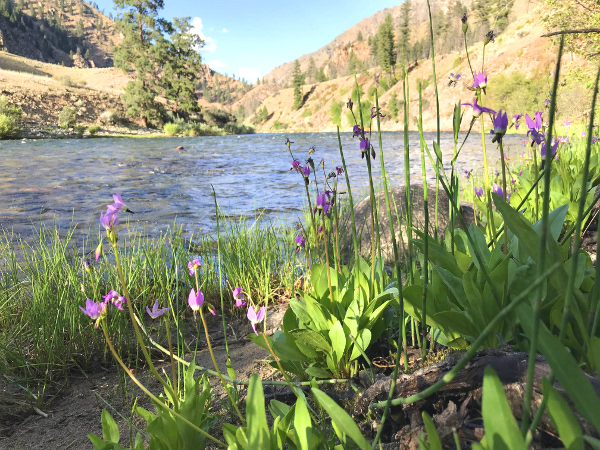 Sky Pilots
Sky Pilots grow in the alpine zones around Gunnison Valley. Their pinnately compound leaves distinguish them from other blooms. They usually grow alone in open and rocky areas. They can also be white. They have a strong smell, which has earned them the nickname "skunkweed." Try the Copper Creek area or the high alpine zones near Pitkin to see them.