Crested Butte or Telluride
Southwest Colorado offers a whole world of recreation and fun that beats the I-70 corridor for its lack of crowds, easy access, and towns that haven't been glossed up by massive displays of glitz and glamour. For many visitors, there's a choice to be made between Crested Butte vs Telluride for a trip to this corner of Colorado. While we're obviously a little biased, we figured we'd do our best to highlight some differences between the Gunnison and San Miguel valleys so you can make an informed decision the next time you decide to visit. After all, we spend time in the San Juans too. What they have to offer is just a little different than what we do.
Open Valleys/Open Views
Probably the biggest difference between Telluride vs Crested Butte is the openness of the valleys. Winding your way up the San Miguel canyon to Telluride is a far different experience than driving Hwy. 135 into Crested Butte. On your way to us the mountains are on full display. You can see Crested Butte Mountain from miles away and the sunshine just hangs out longer, even in the winter. For some folks that is a huge bonus, for others they prefer the cozy and boxed-in feel of Telluride.
Skiing
Both Telluride and Crested Butte Mountain Resort ski with a similar feel. Telluride is quite a bit larger and features more on-mountain dining and a larger array of beginner skiing. The shining jewel at each ski area is steep terrain. The big difference in Telluride, however, is that you have to hike to it. In Crested Butte ' much of our terrain is double-black and much of that is accessible from lifts. Sure, you may have to sidestep and ski into a bit of it, but there's a far smaller percentage of terrain that features a bootpack for access.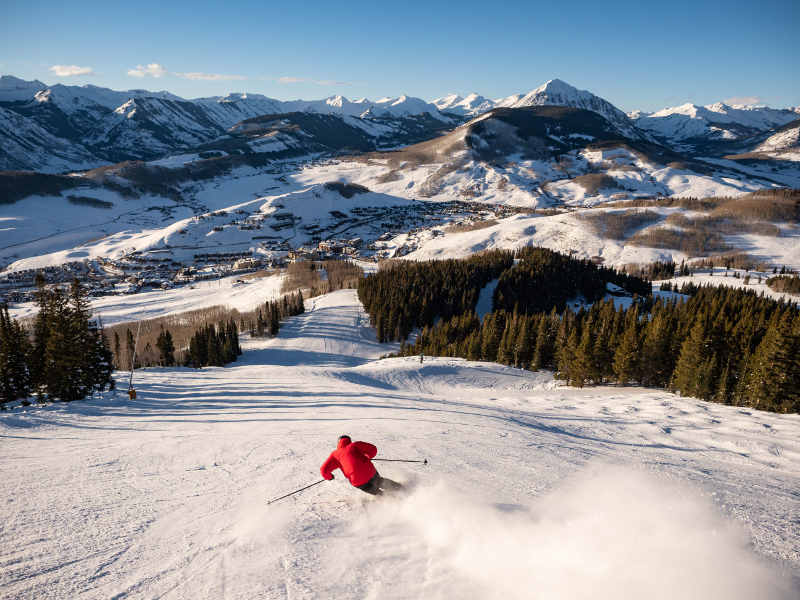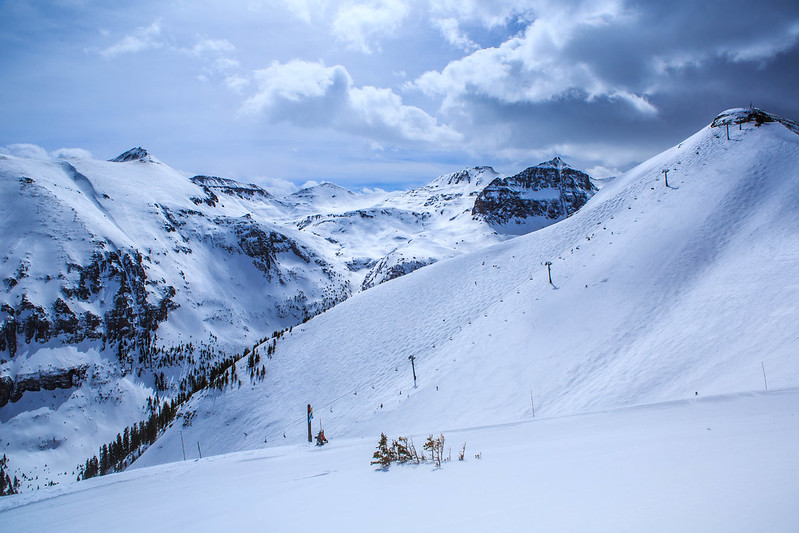 Both resorts are also on the Epic Pass. Telluride offers seven days of skiing or riding on the full Epic Pass. Crested Butte has unlimited days on the Epic or Epic Local Pass.
Nordic skiing in the Gunnison Valley also benefits from the open valley of the East and Slate Rivers. Crested Butte is the Nordic Ski Capital of Colorado and there are few places like the Crested Butte Nordic trails to take in the views of the Elk Mountains.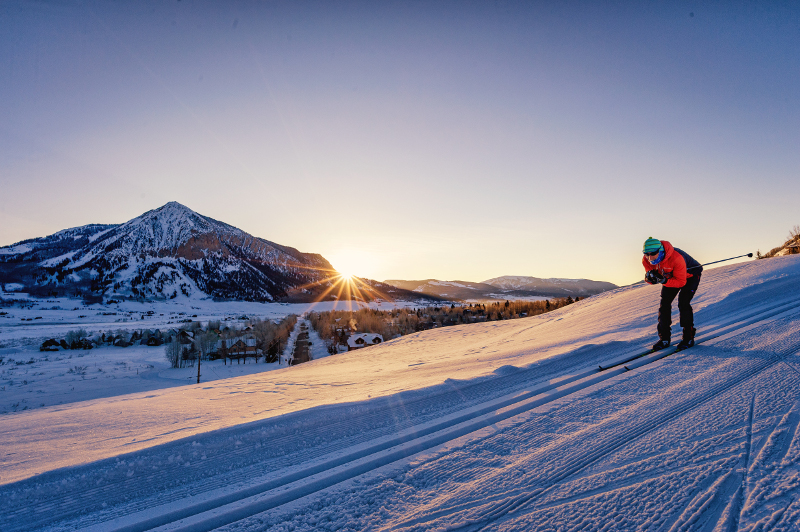 Towns
Spend time in either one of these two quaint Victorian towns and you'll notice a big difference. Telluride is mostly brick and mortar. Crested Butte's buildings are all constructed of wood. This is a result of the mining boom of the late 1800s. Telluride had the gold and silver wealth of the San Juan Mountains while Crested Butte survived as a coal mining town and was far less rich necessitating cheaper building materials. This gives our town a quaint and homey feel that's hard to replicate anywhere else in Colorado. Spend time at the Dogwood or Wooden Nickel bars and you'll understand exactly what we mean.
Flights and Access
Telluride is primarily serviced by the Montrose Airport, almost a 1-hour drive away from Telluride. While this airport is certainly bigger than the Gunnison-Crested Butte Regional Airport, our flights land only 30 minutes from Crested Butte Mountain Resort. Staying in Gunnison, with the free bus service, is a great way to maximize your stay and cut down on travel time during your vacation.
Trail Access
We will toot our own horn here for a bit, because for all our differences and similarities there's one place where we really shine. Crested Butte and the Gunnison Valley have the largest trail network anywhere in the world. Within our county there are 2 million acres of public land, 750+ miles of mountain bike singletrack, and over 1,200 miles of trails for hiking. Five Wilderness Areas surround our towns, and access is an easy drive to any number of trailheads throughout the Valley. While Telluride has easy access to trails around town, just like us, getting away from people and finding true solitude takes a bit more effort and driving.