By Francesca Pavillard-Cain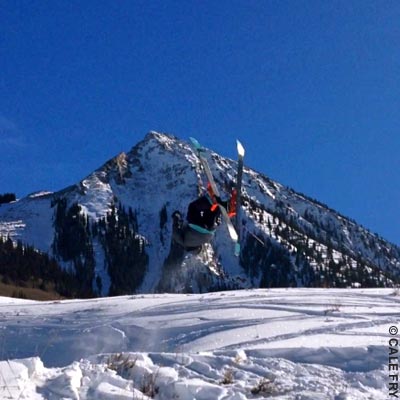 I am skiing through three feet of fluffy powder down Teo, then Hawk's Nest, and finishing with a high-speed jump
off the cat track onto Rambo, just a few back flips before I land. Wow when did I get the double black flip down? Suddenly I awake from this epic dream. I squeeze my eyes shut hoping the dream will come back to me. I am itching with the anticipation to click my skis on.
The first of these dreams was in May less then a month after Crested Butte Mountain Resort closed. Now that the air is crisp and the mountains are dusted with a shimmering layer of snow the dream is all too real. In some respects waiting for winter is torturous but there is also something beautiful about the wait. It's the fire that's burning away inside each of us ski bums. This fire is only refueled with the newest ski movie premieres and early season urban rail sessions. All of this makes it ok for the beautiful fall leaves to abandon their trees because it means we are that much closer.
I see this same motivation all around me. The excitement is contagious. Every Monday, Tuesday and Thursday ski conditioning is bursting at the seams with everyone who is working hard to be ready for the first snowfall.  Every break we have during our training is filled with conversations about plans for the season. Some of these plans include epic ski touring goals, tricks in the park or a crazy line that someone has had their eye on. For someone who has not experienced the high tension and excitement that comes before ski season it's hard to explain. I would compare it to the burning of whiskey as it slides down your throat and into your stomach. It's an aching that is almost unbearable but that sparks an energy that makes you feel invincible.
I gave into the skiing cravings and ventured to Summit County to ski at Arapahoe Basin. It is almost comical how much we lower our standards to satisfy our fall skiing hankerings. There was not much to ski at A-Basin- just an icy narrow death strip of man-made snow containing 4 hazardous urban features that shoot you into the over crowded run. Instead of grumbling about the sub-par conditions everyone was buzzing with the joy of getting in a few turns and re-learning old tricks. The glass half full mentality and the gratification of finally clicking on my skis made for a great day. But instead of feeling fulfilled my longing for the opening day at Crested Butte was even stronger.
Those of you that have been present for opening day at Crested Butte know it is something special. The community makes opening day so much more than the first day of skiing. This tight knit community means that you know almost everyone on the slopes and skiing alone doesn't really happen. Most honor the day in true Crested Butte style by adorning a variety of customs and hoots and cheering constantly fill the breezy air.
Opening day at Crested Butte has great people and beautiful views
but
maybe the most unique to our resort is the amazing terrain. Even early season in Crested Butte has some of the gnarliest skiing around. As I prepare for my second season on the Swatch Freeride World Tour there is nowhere I would rather train than Crested Butte. As one of 50 athletes the tour is highly competitive and no mountain equips me better than the steeps, bumps, and jumps of CB. As I prepare for opening day I will embrace this painful excitement because it makes skiing that much more exceptional.
I encourage you to take a step back to appreciate all the ways that Crested Butte's opening day is truly unique. Our community, views, and terrain make opening day here one of a kind and worth the wait.
Francesca Pavillard-Cain was born and raised in Crested Butte, Colorado. She is the daughter of avid skier and professor Mary Cain and world-renowned mountain guide Jean Pavillard. She has been skiing since she was 2 and competing since she was 14. After winning the Overall Freeride World Qualifier Series in 2013 she qualified for the Swatch Freeride World Tour (FWT). After 2 podiums in her 2014 season Francesca will again compete on the FWT. As an FWT athlete she will represent Crested Butte Mountain Resort and the Crested Butte Community. Follow along with Fran on her journey around the world this winter by liking her Facebook page.