Conservation Opens the Door to Visitors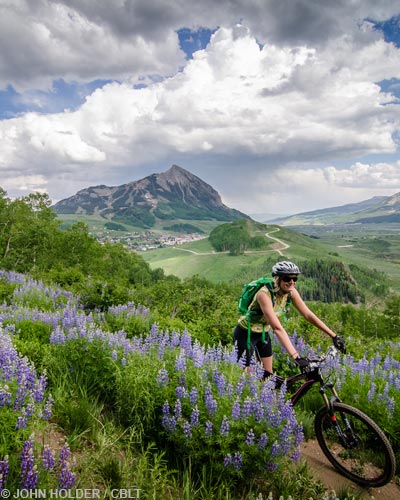 I think I'm going to get a giant "THANK YOU" sign for my office. Why? Because you make my job so much easier! How? By embracing the open spaces that set Gunnison Valley apart. They're why you came here in the first place, and why you keep coming back.
When people find out that I preserve open space for a living, they often share a story about the first time they arrived in the Valley. From the peaks that make up Paradise Divide, to the abundant trout in the Taylor River, to the lush, green hay meadows, the entire county is simply breathtaking. I say this all the time – and it's true — "This is the most beautiful place on earth!"
At the Crested Butte Land Trust, we preserve this spectacular landscape so locals and visitors will always be able to enjoy them, today and forever. We preserve wide open spaces, working family ranches and the vast network of trails that make this area unique, such as the world-famous Snodgrass Trail. To date we've protected more than 6,000 acres of land throughout the Valley, and we are eager to save more.
We also restore lands that have been long forgotten and written off by some — such as the historic Peanut Mine, which was once heavily contaminated by silver and coal waste, and leached into Peanut Lake. Now, both the reclaimed mine and the lake are thriving habitat for wildlife. Take a hike early in the morning, and you'll be sure to see plenty of deer and elk. And if you're lucky, you may see a moose or black bear wandering around, or a blue heron soaring overhead.
Preserving and restoring lands are a big part of what we do, but there is another aspect that involves YOU!  We want you to enjoy these incredible lands. Whether you're from Denver, New York, or Timbuktu, we welcome you. We want you to get in touch with nature — and your own soul — by experiencing the diversity of Crested Butte and Gunnison's landscape.
Thousands of visitors come to the Gunnison Valley each year and we hope they truly experience the western slope of the Rocky Mountains — not just look at them. We encourage you to jump right in – whether it's hiking a trail and spying a doe with her fawn, biking through miles of waist-deep wildflowers, fly-fishing in waders on the East River, or cross-country skiing through powdery white trails winding through protected open space.
Centuries ago, land preservationists wanted to keep people off the land. But that's not how it works today. While some landscapes are sensitive and best left alone, creating opportunities for people of all ages to play, discover and learn in nature is one of our top priorities. We want folks to take advantage of the vast network of trails and rivers that connect our communities.
We also recognize and appreciate the economic value tourism and open space bring to the Gunnison Valley. Our landscape is precious, our scenery stunning. And our trails are a big deal, too.
Preserving land is the Gunnison Valley is the most gratifying job I could ever imagine and I'm so proud to be a part of a community that also cherishes the beauty and value of where we live. I hope you'll join me in getting out and enjoying our natural amenities. See you on the trails!
Ann Johnston is the Executive Director of the Crested Butte Land Trust, recent recipients of the National Accreditation Award from the Land Trust Accreditation Commission. When she's not working hard to preserve the natural beauty of Gunnison County, you'll often find her out on the trails enjoying it. Photos for this post provided by Lydia Stern, John Holder, and Colleen Farrell via the Crested Butte Land Trust.