Whether you're fueling up for a day on the slopes, the trails, the rivers, or the reservoir Gunnison and Almont have some delicious breakfast options for you! I myself am a HUGE "breakfast person". I believe what my mom always told me still rings true, that breakfast is the most important meal of the day! So don't settle for soggy cereal, instead visit one of these excellent establishments.
On the Go
You can definitely sit down at all of these restaurants, but if I'm looking to grab something and move on to my adventure for the day these are the restaurants I look to.
Jermaine's
At Jermaine's their motto is Eat. Drink. Love. and you can feel the love in their delicious cinnamon rolls! Pair your homemade goodie with a cup of their delicious Jamaican coffee and your day is good to go! They also offer breakfast sandwiches, smoothies, bagels and other temping baked goods.
The Powerstop
The Powerstop also known as the "Coolest Gas Station Restaurant Ever" serves up breakfast all day long! When you read their breakfast menu, you know you're not in a typical gas station with offerings such as Stickyfingers (French toast sticks) and the Gutbuster (Chicken Fried Steak, Hash Browns, Gravy & Texas toast). They also serve delicious Camp 4 Coffee and hand's down the BEST fresh squeezed orange juice that I know of. Full bar also available during breakfast. If you're not in a hurry, enjoy your tasty treats on their deck out front.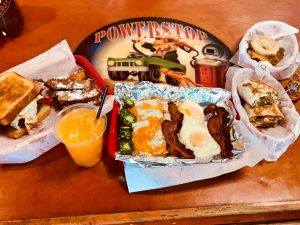 Mocha's Coffeehouse and Bakery
Mochas Coffeehouse & Bakery is a convenient stop on your way to adventure. You can have a seat inside, connect to their free WiFi and get some work done, or you can pull up to their convenient drive-thru and get your goods for the road. Mochas has been voted Gunnison's BEST place to get coffee EVERY year since 2003 in the local People's Choice awards. They have fresh baked goodies available every day, delicious smoothies and so much more.
The Bean Coffeehouse and Eatery
The Bean Coffeehouse & Eatery has been a Main Street staple since… well I've been here 22 years and so has it! The Bean is probably best known for its crazy delicious crepes (savory & sweet options change daily). In the warmer months they have a sunny patio out back where you can kick back and relax with your favorite beverage, a good read and a delicious meal. They prioritize sustainability and offer biodegradable/compostable products when possible so just like those bags for the grocery store, bring your own cup if you can!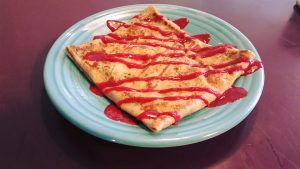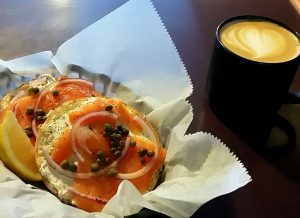 Doubleshot Cyclery
Double Shot Cyclery, the only place in town where you can get a cup of joe, a breakfast burrito, some fresh baked coffee cake all while getting your bike tuned by some of the best bike mechanics in the business! They proudly serve coffee from Mountain Phoenix Roasters in Salida, Colorado and they serve up some delicious variations on toast (I like the one with bacon, lemon juice, avocado and cream cheese). In the warmer months enjoy your meal or beverages out front while you take in the activities of downtown Gunnison.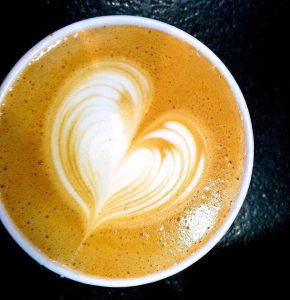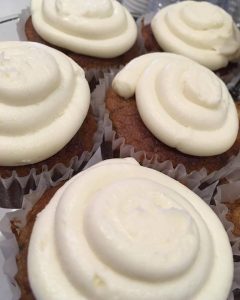 The Bakery Cafe
The Bakery Cafe located within Gunnison Vitamin health food store offers organic and naturally good food! Tucked away behind Palisade's Restaurant (which does serve a hearty breakfast buffet on Sundays!), the Cafe' features daily specials, delicious coffee, smoothies, breakfast sandwiches, breakfast burritos and fresh baked pastries and muffins. Get it to go or dine in. If you do stay to eat check out their upstairs "green" room where you can enjoy your meal surrounded by beautiful growing green things!
Sit and Stay for a While
Although these restaurants all offer carry out (and sometimes local delivery), in my opinion they are best suited for a leisurely breakfast best eaten in their cozy atmosphere.
Backcountry Cafe
Back Country Cafe is Gunnison's newest breakfast option right on Main Street in Sunny Gunny. Pictured below is their delicious Country Benedict, their Free the Hippie Florentine, a bomber Breakfast Burrito, and in the background… my personal favorite… huevos rancheros. They also have an alcoholic drink menu complete with the shot ski! Check out their back patio in the summer months.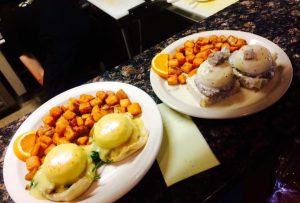 The W Cafe
The W Cafe has to be Gunnison's longest standing breakfast place. If you see a huge crowd gathering on the sidewalk on a Saturday or Sunday then you've found The W! They have a huge breakfast menu including your traditional eggs and bacon to huevos rancheros (again, my favorite) that they serve up all day. As you can see below, their biscuits are DELICIOUS!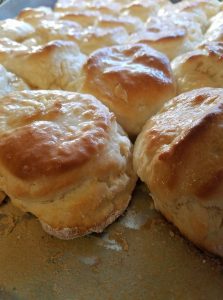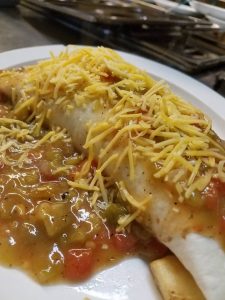 The Almont Resort
The Almont Resort – Where the Taylor & East Rivers meet you'll find a gem of a restaurant!  Okay I know you're probably sick of me saying this but honestly HUEVOS RANCHEROS people. I try to order something else every time I go there and I just can't do it. I see other people's omelets, french toast and burritos and yes they look fantastic but I just can't tear myself away. In the warmer months enjoy breakfast on their sunny back deck as you listen to the rivers flow!
The Firebrand
The Firebrand happens to be my alma mater if you will. I worked there for year's while attending Western State Colorado University so it will always have that special place in my heart. My kids now have menu items named after them so, yeah, I'm biased! However, once you taste their delicious waffles (new waffle special daily), or sink your teeth into a breakfast special (I like mine with turkey and green chilies) or you find yourself at the bottom of a homemade muffin that you intended to just eat half of… well then you'll be a believer as well. If you're partaking in their delicious breakfast bring cash or check, no credit cards accepted here!
Well there you have it! Now dump the boring breakfast and get yourself some REAL FOOD for your REAL ADVENTURES in the Gunnison Valley! All photos either provided by the restaurants or I snagged them from their Facebook page or website.
Author: Leia Morrison is a 22 year Gunnison resident originally hailing from St. Pete Beach Florida. She loves all things GCB including mountain biking, skiing, horseback riding, boating, SUPing, hiking, fishing and camping!