6 Reasons to Skip I-70 Traffic and Ski CB
Want to skip I-70 traffic to ski in Colorado? No other mountain resort in Colorado has such a prolific profile, friendly community, and offers a unique town experience like Crested Butte. It's time you found out for yourself why skiers are choosing Crested Butte this winter to skip I-70 traffic:
1. No Traffic
I-70 is notorious for stop and go traffic, and stop and go skiing with long lift lines at those resorts. Getting to Crested Butte provides a much less stressful proposition and can take nearly the same amount of time.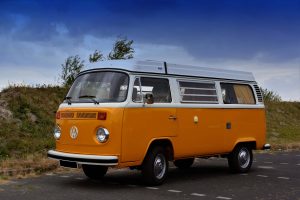 Once you arrive, you won't see too many people driving around either. Most cars look like the VW bus pictured above and for good reasons: Crested Butte has a small local population, there's a free bus up from the larger town of Gunnison 30 minutes away, and free town shuttles run to the ski resort base area frequently. You won't have to worry about paying for parking or even starting your car up until you leave.
2. Runs for Everyone
This butte has it all. Rolling hills near the base area offer the perfect gentle slopes for beginners. A crested summit creates steep runs, pillowy drops, and some of the best inbounds advanced skiing in the country. And of course there's plenty of everything in between. Here's a quick rundown of how the 1,547 acres are broken down:
27% beginner
57% moderate
16% advanced
3. Every Snowsport Imaginable
In addition to the ski related activities you've come to expect on the mountain, Crested Butte and the Gunnison Valley offer the best of everything from snowshoeing to fat biking to dog sledding. Choose your adventure with this Winter Activity Guide.
4. It's Still Shockingly Affordable
Vail, Breckenridge, and the rest of I-70 can be extremely expensive. Lift tickets alone run about $150 a day on holiday break. Here is where CB truly shines this winter. The valley is offering an absolute steal with a new Gunnison Getaway package with low per person prices for a ticket AND lodging! You can finally spend all of that extra cash on champagne and massages.
5. You're Not that Far Away
Crested Butte is only about a 4 hour drive from Denver. Traffic on I-70 can easily add up to that amount of time, and lift lines at those resorts will tack on a few more. The West Elk Mountains are our playground, and you'll know right away you've made the right choice to visit as soon as you roll into the valley and take in the unobstructed views.
6. The Last Great Ski Town
This is a unique town with warm and friendly people. Nearly all shops and restaurants are locally owned and operated. Crested Butte, Colorado boasts its own world award winning rum distillery, 5 adjacent wilderness areas, and 300 inches of fresh powder every year on average.
This is where you'll want to retire, but in the meantime take advantage of the great snow and deals, and treat yourself to a visit.